About Us
As the millennium approached John and I started giving  thought to what we would like to do in "retirement".  A happy accident led us to a young walnut orchard in the beautiful Capay Valley,  and in 2001 we purchased our first acreage and named it Heather Creek Ranch after the seasonal creek that defined our then Southern border.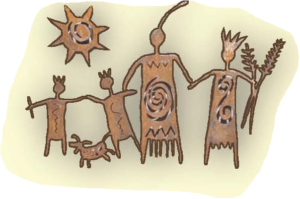 We built the original house and shop and started splitting our time between the Bay Area and Guinda.
Later that year, another random series of events brought  Juan Melendez to work for us. Juan became our ranch manager and we spent the next decade and a half focused on our day jobs. Along the way Juan married Elisa. They and their two sons, Eric and Jonny now live in the original house.
We  added a parcel on the South side of Heather Creek and planted olives for oil.  Heather Creek Ranch now produces walnuts and olive oil.
We have also been growing small quantities of both red and white wine grapes and producing them  under the Adams-Melendez Family name. Our logo features Juan, Elisa, Eric. Jonny and Duke the dog,under a Capay Valley sun. To date our wines have been enjoyed at family and friends weddings, graduations and local  charity events. We expect to offer our first public releases in 2017.
We share the ranch and the valley  with deer, bobcats, quail, bald eagles, great blue heron, fox, raccoons, river otters, turkeys, mountain lions, the occasional bear and bunnies galore.  We have planted our borders to promote wildlife habitat and have sowed wildflowers and native flowering plants and shrubs to sustain bee and beneficial insect populations.
We love our land and are committed to using environmentally responsible, modern farming methods to promote sustainability.
We hope you will enjoy the fruits of our Valley.
Sandra Adams